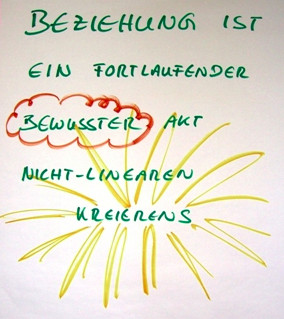 Relationship is an ongoing conscious act
of nonlinear creating.
Relationship Space Purification
This deep initiatory process requires experience with the context of Possibility Management (usually an Expand the Box Training) and is offered from time to time at a Possibility Lab. It serves the purpose of purifying your relationship space from all the trash that accumulates over the course of years: Old relationships, flirts, images from movies, advertisement and internet, relationships to parents and children and much more. Only if this special space is truly free, can you fully get involved in a lively relationship or attract such a one. It is recommended to go through this process not together with the own partner. And it makes a difference if both partner go through the process. Thus, we offer 20% discount for the second appointment, if the appointments are made at the same time.
Duration 1.5h to 2h, appointment by arrangement under contact, costs 240 CHF.