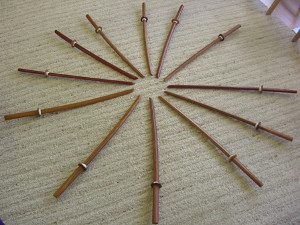 Possibility Laboratory
When you attended an Expand the Box Training, the Possibilities Labs are available as a free play space for further unfolding, transformation and initiation. The Lab is a mix of deep initiatory processes, cooking together, festive and happy spaces, sword work, other practices for all four bodies and much more. You will discover possibilities that your did not even expect to be there and gain many valuable skills, which are not known or trained anywhere else. While breaking out of the cocoon in the Expand the Box Training, now you free yourself from the last covers, spread your wings and explore the unknown. Discover more in the new video and texts here.
3rd - 6th of Mai 2018 (Thu 7am to Sun 5pm in Germany near Rottweil)
20th - 23rd of Sep 2018 (Thu 7am to Sun 5pm in Germany near Rottweil)
15th - 18th of Nov 2018 (Thu 7am to Sun 5pm in Switzerland)
Trainer team
Katharina Kaifler
Georg Pollitt
Felix Fulda
Location (D)
Seminarhaus Eulenspiegel in Flözlingen-Zimmern
near Rottweil in South West Germany (IC train station and motorway exit between Stuttgart and Zurich)
Location (CH)
Seminarhaus Alter Bahnhof of Creux-des-Biches, Switzerland, Jura (good train and car connection from Basel, Biel, Bern, Zürich, and more)
Costs
Tuition fee as for ETB
Room 25-45 €/CHF per night depending on room category and location
Food costs approx. 8-10 € (or up to 12 CHF) per day
Register
and further information under contact
Other
Invited are adult women and men of every age who have participated in an Expand The Box Training before. Securance is up to the participants. Our trainings provide no therapy but an offer for people who want to expand there possibilities using their own adult responsibility.
Please read the Hints to trainings and coachings in the Space of Possibilities which are part of the contract in case of participating in our trainings and coachings.