2021/09/30 - 10/03
Thu 7:00 am - Sun 5:00 pm
Possibility Lab in Flözlingen near Rottweil (D) with Katharina Kaifler, Felix Fulda, Georg Pollitt
What? A laboratory full of possibilities, intense, multi-dimensional, playful, alive, in friendship and community. More information...
Requirement: Expand The Box Training (ETB)
When? Date see above - arrival the day before between 6pm and 10pm, training days start at 7am with sitting, and end (apart from last day) approx. at 10pm, with breaks during which we'll also create our meals together.
Where? Presumably (if traveling from CH and local rules will allow it) in Flözlingen-Zimmern (near Rottweil in South West Germany, IC train station and motorway exit between Stuttgart and Zurich):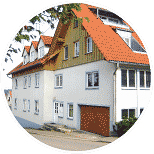 Seminarhaus Eulenspiegel
Investment? It's your decision how much you want (and are able) to invest for your personal development by choosing from the scale 785 - 1,150 CHF respectively 650 - 950 EUR.
Additional costs: Accommodation in double (160 EUR) or single (200 EUR) rooms with shower and WC (all 4 nights) and between 30 and 50 EUR for food, both to be paid in cash on-site.
How? For registration or further information use

Contact
With whom? Your trainers for this offer: